Foodtech Forum, by Foodtech Innovation Network, gathered 400 attendees – indicating the great need to increase the power of foodtech and innovation to create the food system of the future. The Forum resulted in several concrete connections and discussions on new business opportunities, and actions on how to push the food system towards a more sustainable food consumption.
Skåne has become a hub for innovative companies working to create a sustainable and healthy food system. The startups are leading the way with new and alternative paths for a more efficient global food system. That is why Foodtech Innovation Network created the Foodtech Forum – to accelerate the pace, promote collaboration and highlight innovative solutions. It was an opportunity to come together and taste the most recent products on the market, learn about the latest developments in foodtech, discuss the future of food, and network with like-minded professionals. Attendees included leading professionals in the industry and public sector, startups and established companies, investors, retailers, and experts in food science and technology.
"The great interest in the Foodtech Forum shows that foodtech is crucial to create a sustainable food system that can meet future demands here and now. Skåne has a long tradition of producing high-quality food, this expertise is now being combined with cutting-edge technology to create a food system that is not only sustainable but also innovative and competitive on a global scale."

– Emelie Olsson and Malin Komaiszko, project managers for Foodtech Innovation Network.
Food-tasting exhibition hall
The Foodtech Forum featured a food-tasting exhibition hall with company members from Foodtech Innovation Network. They presented their innovative products with high ambition, creativity, and passion. The evaluation shows that a number of concrete contacts were made during the Forum and that it has already resulted in business opportunities being initiated.
"It was a very well organized and fruitful event. We made 10 connections with good quality that will lead us forward. We can't wait to return next year!"

– Innoscentia
"Foodtech Forum was a great stage for showcasing the multitude and excellence of startups in Skåne. We met people with an interest in engaging themselves in our company, several service providers that may become relevant down the line, and a couple of consultants with focus on export."

– InnovaChildfood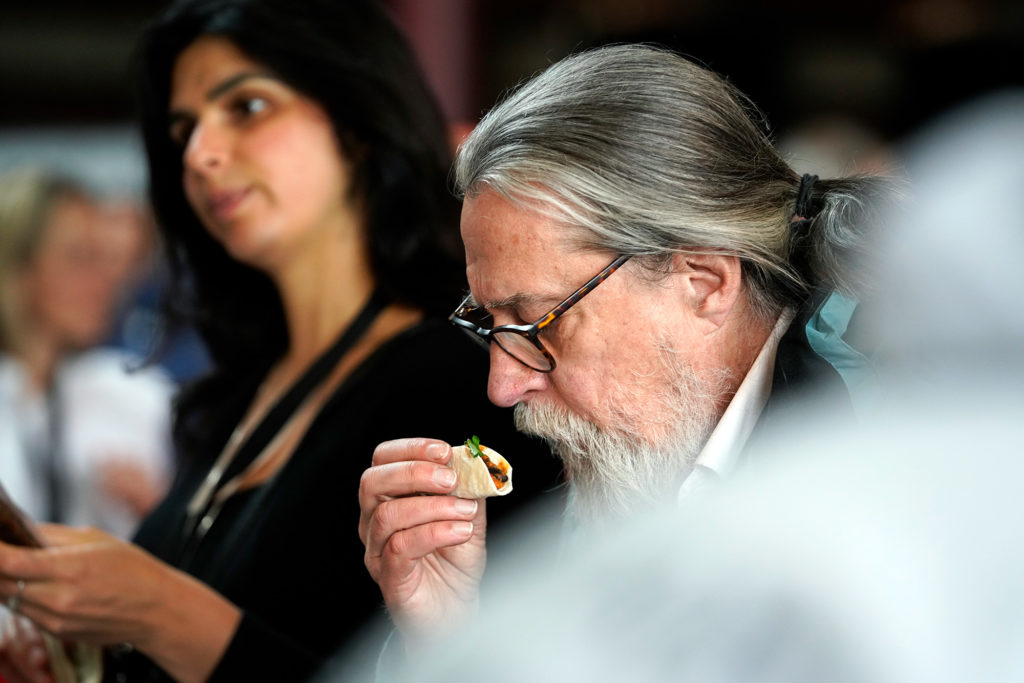 Panel discussions
The stage program was divided into three panel discussions on investments, public meals, and sales channels. The first panel included investors Erika Hombert from Hack Capital, Eric-Alan Rapp from Re:food, Daniel Skaven Ruben Angel Investor Foodtech and Hampus Jakobsson from Pale Blue Dot. They discussed trends, needs and the future of foodtech investments but also why Skåne startups are at the forefront of foodtech innovations.
The second panel included Eva Kvanta, Editor in chief at Magasin Måltid, Helena Rappe, Area manager Foodservice at Region Skåne, David Gustavsson, School chef of the year 2021 and Jenny Håkansson, Head of meal, health and care administration at Helsingborg Stad. Together they highlighted the impact new foodtech products have on public meals and what can be done to increase the range of local products to benefit the environment, society and its residents.
The final panel included Sara Maxence, Future Foodsystem Avocate, Peter Ferngård, Strategic Purchaser at Sorundahallarna and Rickard Sandahl, Founder and CEO of Mylla. The discussion revolved around new innovative channels and opportunities to go to market, how to scale as a startup and how the market will develop in the future in terms of new products and reaching the consumer.
The moderator of the day was Analisa Winther, expert on the future of food.
"This was a really great platform to convene the key food system actors in the same room. That's when the magic happens."

– Daniel Skaven Ruben, Angel Investor Foodtech
"The Forum gave us many interesting new ideas, so it was good to be there. We probably found four new partners with whom we will start collaborations in one way or another."

– Peter Ferngård, Strategic Purchaser at Sorundahallarna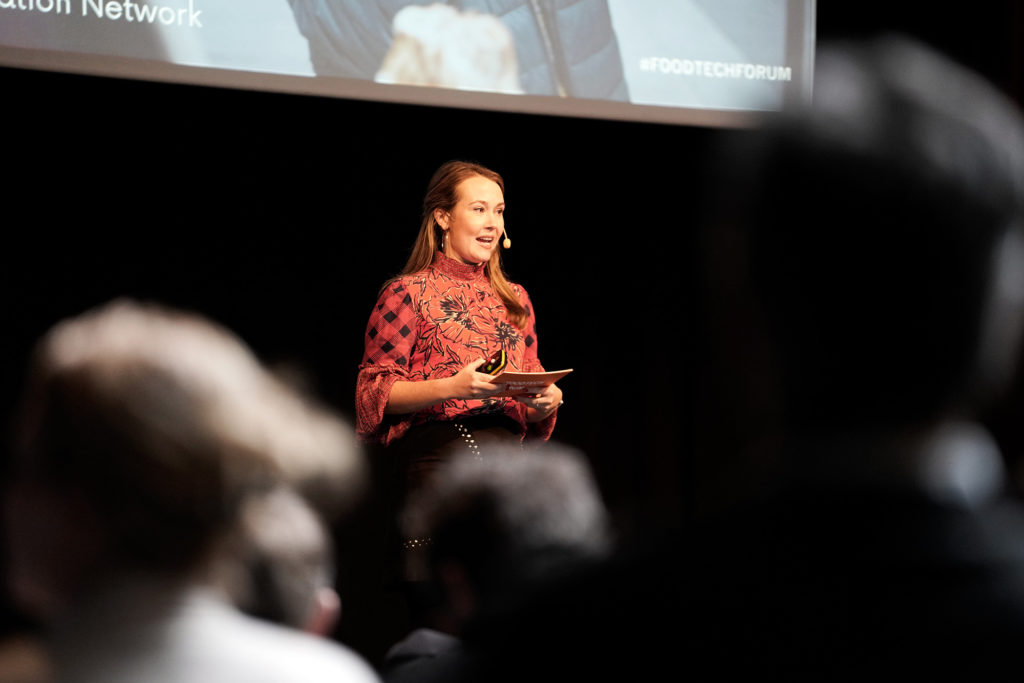 Thank you
We would like to thank all member companies that exhibited and pitched at the Foodtech Forum:
Bärta, Angry Camel, Simply No Waste, Scobybaby, Mossagården Eko, Oddbird Internationall, Maisha Deli, Nothing F!SHY, OptiCept Technologies, Alovivum, Nablus Mejerier, Casheury, Saveggy, Diapure, Asta, Hummusson, Veg of Lund, Framtidskultur Halland, Picayune, Scandinavian Algae, Edgy Veggie, Yofix Probiotics, ARWA FoodTech, Agrodit, DoubleGood, InnovaChildfood, Berry Lab, Gnista Spirits, Eatem, Stacky's, Re:meat, HPP Nordic, Stockeld Dreamery, Glucanova, Koastal, Greenleaf Medical, SHI – Svensk Hampaindustri, Innoscentia, Roots of Malmö, Oh Mungood and Seatrients.